Charter Bus San Diego
Charter buses in San Diego are an excellent way to make an excursion or trip with small, medium sized groups, and larger groups. If you are in a small group, we offer a shuttle service with all the comfort, and for a large group, our oversized vehicles will be a great option because we have a large and spacious charter bus in San Diego, making them perfect for the entire group.
The significant difference between public transportation options and our San Diego Charter Bus rental is the entire service because we are willing every day to provide you the state-of-the art in our private bus rental with a professional designated driver.
Our certificated drivers can deal with the headache of San Diego traffic and easily transport you and your guests to and from the San Diego International Airport to all the attractions in San Diego and Southern California with the best service.
With our charter buses, you can plan your trip for all of San Diego and Southern California and explore the beautiful beaches and neighborhoods such as Little Italy, san Marcos, Mission Beach, Pacific Beach, and more.
San Diego Charter Buses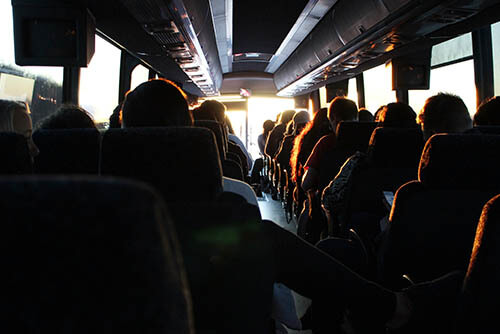 Enjoy a comfortable charter bus service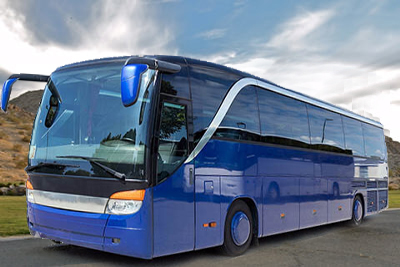 Charter bus outside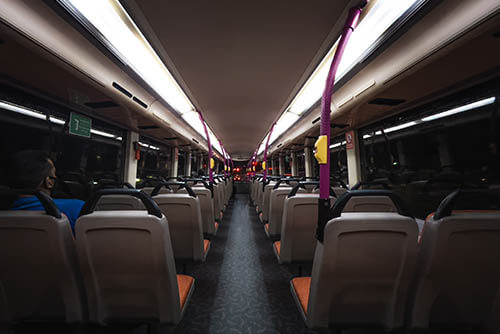 Charter bus inside
Explore San Diego with the best charter buses
San Diego is called America's finest city! Travel safely in this picturesque city on a private tour through fantastic restaurants, museums, shops, and beaches. If you are ready to relax and give your legs a rest, visit and enjoy Torrey Pines State Beach with the Pacific Ocean as your background; you won't find better scenery than this.
San Diego's transportation services include reclining seats, flat screen TVs, DVD players, climate control, onboard restrooms, air conditioning, storage space, free wifi and power outlets. Our fleets have all the amenities and spacious luggage bays to meet your needs for the most popular events.
Events in California San Diego
Are you looking for the best San Diego charter bus rental services for your special events? Look no further than Party Bus San Diego! We have many vehicles to choose from, including party buses, minibus rentals, school buses, and limos, to make your event memorable. No matter what you have planned, we have a great transportation solution for you! Call us for a charter or limo bus for your wedding, birthday party, corporate events, and more!
Visiting San Diego is an excellent option to celebrate your special events. The activities are lots for any San Diego group trip! Whether it is an event for business travelers, a field trip, or is more a familiar one, San Diego has many popular attractions for your big day.
On your trip with a minibus rental, don't forget to take a picture of the view of the San Diego Skyline! No Matter if you make your own schedule or ask us for help, the fun will be guaranteed in San Diego.
Attractions in San Diego CA
San Diego Comic Con
You can't escape the largest annual events in San Diego; the most popular and huge event is the San Diego Comic Con, celebrated in the San Diego Convention Center. With over 150,000 attendees every summer is the largest comics and pop culture convention in the USA. Another big event is San Diego Restaurant Week; with more than 150 restaurants participating, you have the opportunity to taste great food.
SeaWorld San Diego
Visitors can enjoy animal aquatic theme park rides in Seaworld San Diego and learn about marine life worldwide in this educational and popular attraction. This aquarium is home to world-class animal presentations and shows of dolphins, sea lions, big cats, and exotic birds in replicas of their natural habitat at the beautiful Mission Bay Park. Reserve your group tickets and get ready for a large group transportation service.
The San Diego Air & Space Museum
In this aviation and space exploration museum in San Diego, you will find a lot of educational entertainment and interactive digital art installations. This museum is located in Balboa Park and is the perfect place for field trips of youth groups and private group tours.
USS Midway Museum
The USS Midway Museum, with the longest serving in the US, offers the aircraft carrier history in downtown San Diego at 910 N Harbor Dr San Diego, CA. Before arriving, kids can watch movies on the bus's TVs, and lets in the museum, they will enjoy the museum's exhibition and activities with a vast collection of aircraft. Let's get ready to explore!
San Diego Zoo
Explore the San Diego Zoo with a group transportation excursion. This zoo in San Diego previous San Diego Wild Animal Park is often considered the best zoological park in the world. The zoo houses more than 3,000 animals, where you will find open air animal exhibits. The San Diego Zoo is located in Balboa Park, precisely at 2920 Zoo Dr San Diego CA 92101, while the Safari Park is located at 15500 San Pasqual Valley Rd, Escondido. Both are perfect for having a lot of fun with the giant pandas, polar bears, and elephants, spending the entire day there.
Torrey Pines State Reserve
Visit Torrey Pines State Reserve and take the sunset from the end of the Yucca Point Trail in San Diego, CA. Relish the ocean air and the sounds of crashing waves around the community of La Jolla Cove. In La Jolla Cove, there are guided hikes and exercise your mind and body in a clean and beautiful environment. This reserve is located at 12600 N Torrey Pines Rd, La Jolla CA 92037.
Cabrillo National Monument
The Cabrillo Monument commemorated the landing of Juan Rodriguez Cabrillo in San Diego as the first European to set foot on the current West Coast of the United States. Cabrillo was the founder of the San Diego Bay Area. Located at the southern tip of the Point Loma Peninsula at San Diego CA 92106, you will be able to take a voyage of exploration with this National Monument. Also, you can visit the Old Point Loma Lighthouse, built in 1854.
The Natural History Museum
Founded in 1874, the San Diego Natural History Museum is the oldest scientific institution in Southern California. You can have school field trips full of education and unique exhibits about evolution and diversity. This museum is located in San Diego CA 92101. Later you have the incredible option of visiting the best Restaurant at 1549 El Prado San Diego CA.
Gaslamp Quarter
Enjoy the Mexican culture is evident in the city's cuisine, historic architecture, celebrations, thriving art, music, and theater scene in Gaslamp District. With some of the city's most popular nightlife, Gaslamp is famous for its clubs and pubs. For the night's end, you can make a reservation in San Diego Mission Bay Resort located at 1775 E Mission Bay Dr, San Diego, CA 92109.
Petco Park
Are you part of the San Diego Padres fans? Petco Park is the perfect baseball stadium to enjoy a big game! Although San Diego doesn't have as many professional sports teams as Los Angeles or San Francisco, San Diego Padres are an incredible Major League team. Furthermore, the stadium offers you the best experience in San Diego. Have an unforgettable day with a safe ride in a San Diego bus rental for sports teams. Also, this incredible stadium is used for live music concerts.
San Diego Museum of Art
San Diego stands out in California for its art galleries; one of them is The Museum of Art in San Diego, which is a San Diego landmark. This finest art museum is located at 1450 El Prado San Diego. With an extensive collection of modern art, you can relish the thoughtfully composed, poetic, and influential art.
Old Town San Diego State Historic Park
Commemorating the early days of San Diego City, you can visit and explore all the historic buildings from the period of 1820 to 1870 and learn about California's first Spanish settlement. See how was look the old theater and the established from that time. It's a magical throwback to the cultural heart of the city. This historic park is located at 4002 Wallace St San Diego CA 92110.
The most affordable service in San Diego
All these attractions and activities are much more enjoyable with a charter bus rental. If you have a long day full of excursions and it is your first time, the better way is to rent a charter bus in San Diego with us. You will avoid the San Diego traffic and just sit to relax and relish the trip.
Also, suppose you are planning some student trips. In that case, our packaging service includes a professional and exceptional shuttle service from San Diego State University to museums and other historical and science events.
Our professional and courteous drivers will ensure that you and your guests arrive safely and on time. Contact us today to learn more about our services and to book your reservation.
Book your San Diego charter bus today! We'll take care of all the details. Our customer service agents are available 24 7, making booking charter buses in San Diego easy. You can request a personalized quote for charter bus rentals. Don't hesitate and call us now to get your free quote.
Other San Diego Party Buses areas
Visit our service area and find nearby cities, such as Chula Vista, Del Mar, La Jolla, Escondido, San Marcos, Encinitas, El Cajon, Oceanside, and more.
Do you want to take a limo service in Las Vegas? Lets check out our friends at Las Vegas Limousine
Another transportation services