Sprinter Service San Diego
Hi there! We are Party bus San Diego, a group transportation company with the best vehicles at the best rates. In this page you will find our great sprinter van service available in San Diego. We offer the best Mercedes sprinters in the market for group transportation. This is an ideal travel option for medium groups that are looking for a private black car service at a competitive price. Keep exploring our website or call us for more information. We are always working for you.
We customize our sprinter vans for any special occasion. No matter if it's a corporate event, bachelor or bachelorette party, business event, your wedding day or if you need airport transportation to the San Diego International Airport. We are here for you. A Mercedes Benz sprinter is comfortable and convenient for any event. We ensure the best experience and a friendly customer service that will be available 24/7 if you have any concerns or have doubts during the booking process. Call us now or, if your prefer, send an email with your Mercedes Sprinter request.
Mercedes Benz Sprinter for Group Transportation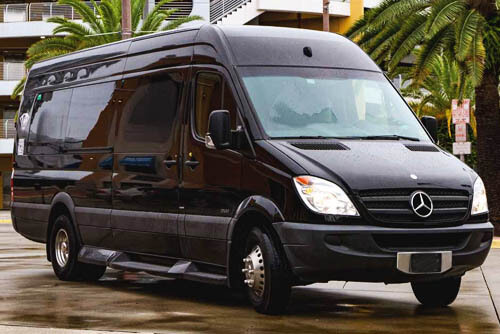 Customized vans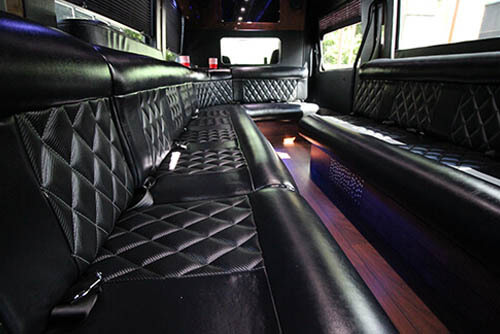 Luxury interior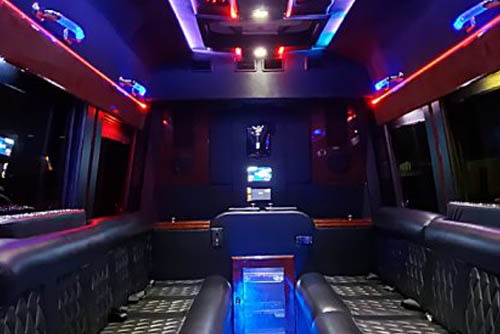 Entertaining amenities
We provide the best vans in San Diego
Our goal is to deliver luxury and fun vans to the clients. We are a reliable transportation service company with professional trained drivers. You can expect from us punctuality, great customer service, clean vehicles, and an enjoyable experience inside the best van. Just relax and look at the best views in San Diego. Some reasons to hire a sprinter van service are:
The benefit of privacy: Public transportation can be crowded and uncomfortable. By renting a van all the passengers will have their own vehicle and chauffeur. This means more space for stretch your legs or even lay down if you're doing a long-distance road trip.
Convenient service: Instead of walking to the metro or bus station, we can pick you up in your front door. Our booking process is really simple. With a few steps you'll have your own sprinter van waiting for you.
Meet your schedule: Don't worry about being late. Our chauffeurs will be on time waiting for you. This way, we ensure a quality service. Let us now your schedule and we will be happy to drive you to your destination.
Enjoy the best amenities: Our sprinter vans are equipped with features like leather seating, LED lights, a great audio system, USB ports, beverage coolers, and more. Keep in mind that we customize your van according to your needs.
Save money: If you're traveling with a medium group, it's not the best to use the metro or public buses. Even renting separate cars can be very pricey. Renting a van is a cost-effective and more comfortable solution.
Our Mercedes sprinters are also perfect for small parties. We offer a 50-passenger party bus, however, you can have the same experience with less people. Our vans can fit up to 15 passengers. So if you're having a small gathering, it's perfect for you! Enjoy the same amenities such as flat-screen TVs, a wet bar, Bluetooth connection, audio system, among others. All of our vehicles count with secure checking.
For any event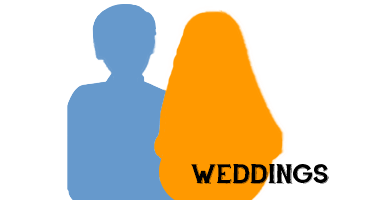 Weddings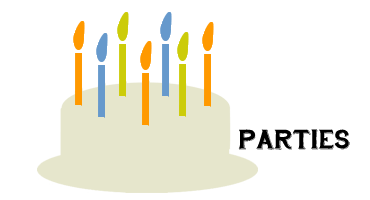 Birthdays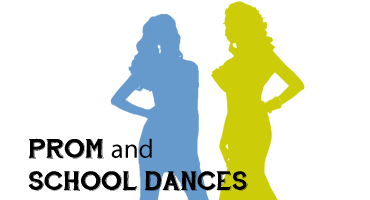 Prom
Affordable rates
Renting a sprinter van is a cost-effective choice for medium groups. You won't have to spend more money hiring several cars to fit all the passengers, instead, rent a spacious van that can transport everyone with fun and luxury at a fair price. Besides, a sprinter van offers a similar experience inside a limousine, but cheaper. This is a great service to enjoy for group transportation.
San Diego CA is a great city to explore. There are many fun spots that you can enjoy with your family or friends like the San Diego Zoo, USS Midway Museum, SeaWorld, Seaport Village, Belmont Park, and more! We have great experience serving different events like:
Bachelor/Bachelorette Parties:The bride and groom deserve the best in their last night of freedom. Have the best party in San Diego inside a Mercedes sprinter van with all of your friends.
Airport Transfers:A van is perfect for group transportation to the airport. Ride comfortable with your luggage, our vehicles are spacious enough. Don't risk losing your flight! Schedule a private ride to the airport.
Proms:Arrive with style. Sprinters are comfortable if you're wearing a big dress. We will drive you safe, and besides, you will be able to start the party early inside the best sprinter.
Bar hopping:Hiring our transportation services you won't have to worry about choosing a designated driver. You will have a private chauffeur so all your friends can have as many drinks as they want. In addition, San Diego is a great place for beer tours and wine tasting.
Birthday parties:Invite your friends and family to have a different experience inside a luxury van. Make your birthday party unforgettable with the best Mercedes sprinter and the premium amenities.
Call us now to book your San Diego Mercedes Sprinter and ask for the special discounts! Our agents are available for you via email or phone. We highly recommend booking in advance to guarantee that we are available in the date you need. Enjoy the best experience with the finest vehicles in California, safe and fun!