Party Bus Vista City, CA - Party bus rentals in Vista City
Are you looking for party bus rentals in Vista City, San Diego? Vista City Party Buses is your best option to celebrate your special day; we offer a wide range of transportation services for your bachelor party, bachelorette party, wedding occasion, birthday parties, and corporate events. Vista party Buses covers all your transportation needs with the best quality fleets in Vista City and all the grandest areas of San Diego.
Vista City party bus rentals fleet
Party bus rental inside
Limo service inside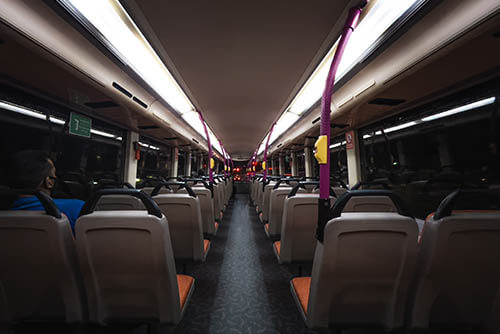 Charter bus inside
The most reliable Party Bus service in Vista CA.
You should consider several factors when looking for the best bus company in San Diego. Firstly, the bus itself should be of high quality and luxury. Secondly, the company should be reliable and have a good reputation. Finally, the chauffeurs should be highly trained and professional. You can find all these elements with San Diego Party Bus. If you're looking for a way to make your next event special, contact us!
Vista City Activities
Enjoy an unforgettable bachelorette party
Relish brewery tours in San Diego county.
Visit North Park in San Diego
San Diego Party Bus rental offers you many options.
We offer you luxury transportation for a corporate event; you can choose from limo service, charter buses, mini buses, and a shuttle bus with all the amenities you need to have a good time and give an excellent presentation to your company. Also, we are focused on making you feel comfortable and less stressed; for that, we have the best limo services for airport transportation. You leave the driving work to a professional chauffeur that will make you feel secure and relish your trip.
On another side, if you are planning to have a great experience with your friends and family, you have a lot of activities to enjoy in Vista City with a limo party bus rental. Popular activities include fishing, sunbathing, and water sports in the lake located in San Marcos, about 12 kilometers southeast of Vista City. The sports games are an incredible way to enjoy! A multi-use trail that follows the lake's shore is open to walkers, cyclists, and joggers.
Just a few minutes from Vista City have the most scenic beaches of San Diego. Vista has many breweries, restaurants, shopping attractions, and theaters.
15 places you cannot skip when coming to Vista City:
Alta Vista Botanical Gardens
Broadway Theater
Vista Farmers Market
Rancho Guajome Adobe
Wave Waterpark
Shaks Mediterranean Bistro
The Antique Gas and Steam Engine Museum
Vista Historical Society Museum at Rancho Minerva
Brengle Terrace Park
Iron Fist Brewing
Hungry Hawk Vineyards
Froggy's Donuts & Bakery
St. Mark Golf Club
Discovery Lake
Southern California has undergone a wine renaissance in recent years. For casual wine drinkers, relishing a winery tour with a party bus is a great way to relax for a few hours immersed in fantastic scenery and learn about wines. Even if you appreciate beer more than wine, Vista City offers various breweries where you can enjoy brewery tours with family and friends. Our professional crew is glad to help you with your itinerary and accommodate you with our best limo party buses.
The San Diego area has many famous places, such as the Gaslamp Quarter and North Park, which are traditional places in San Diego of culinary innovation. The restaurant scene is full of brunch spots, taquerias, and pubs; the perfect place to share the incredible food with your guests.
Vista Party Bus rental has unique luxury party bus rentals with all features, such as a full bar, a dance pole, and a great-sounding stereo system. As San Diego Party Bus company, our priority is your happiness, and our customer service is available 24/7. Call us to request a quick quote today, and we will be willing to help you.
Prices with Vista Party Bus Rental
When you call us, the only requirement we will ask you for a San Diego Party Bus rental is that you know the date of the event, the number of passengers, the pickup and dropoff location, and how much time approximately you will need a San Diego Party Bus rental. Why? Because all this information is factors to give you the correct quote today. The distance between the pickup location to the dropoff location of the limo buses in the San Diego area will determine the price of the service; however, specific lengths outside our standard area of operations may require fuel surcharges to cover our additional expenses. As the best bus company in San Diego, we always clarify the information, meaning no hidden fees. with your party bus.
Do you want to request a free quote?